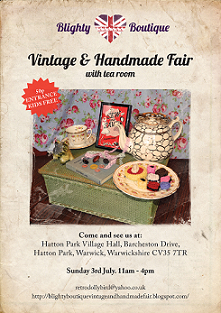 The Fair is taking place on Sunday 3rd July 11am – 4pm.
Bringing together a selection of vintage and handmade sellers.
Vintage style tea room complete with delicious traditional cakes and delicate vintage china. All proceeds of the tea room will go to the
West Midlands Neuromuscular Centre Fundraising Appeal.
Adult's 50p entry, children free.
Click on the flyer for more info...
Tweet